Copper Bonded Grounding Rod In 250 Micron UL Listed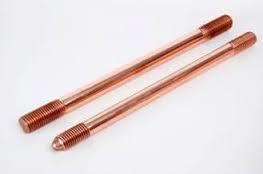 Copper Bonded Grounding Rod In 250 Micron UL Listed
Product Description
Copper Bonded Grounding Rod In 250 Micron UL Listed
UL Listed Copper Bonded Grounding Rod in 250 micron is made from low carbon steel with a high tensile strength of at least 600 N/mm2. Low carbon steel core are molecularly tended with 99.9% pure electrolytic copper.
UL Listed Copper Bonded Grounding Rod in 250 micron is a product that helps in dissipating the fault current to help your assets being damaged from the hazards of fault current. UL Listed Copper bonded grounding rods in 250 micron are manufactured As Per Customers Requirement to the which is internationally accepted. is a Amiable impex is manufacturer of Copper Bonded Grounding Rods in 250 Micron UL Listed with a remarkable production capacity of producing 2000 rods per day and that enables us to meet the shortest possible delivery time.
The copper layer is bonded to steel core through an electrolytic process that ensures a perfect and tough bonding between the steel and the copper the ground rods are fully covered with copper without any cracks, holes, cavities etc. and prevent exposure of the steel core to soil and moisture. Therefore it can resist corrosion better and has capacity of being driven to great depths.
UL Size IS:
14 x 2400

8

12.7 (UL)

14

AI1-CBR - 1424







16 x 2400

8

14.2 (UL)

5/8

AI1-CBR - 124

16 x 3000

10

14.2 (UL)

5/8

AI1-CBR - 130













19 x 2400

8

17.2 (UL)

3/4

AI1-CBR - 224

19 x 3000

10

17.2 (UL)

3/4

AI1-CBR - 230
Trade Information
Africa, Middle East, Western Europe, Eastern Europe, South America, North America, Central America, Australia, Asia

All India